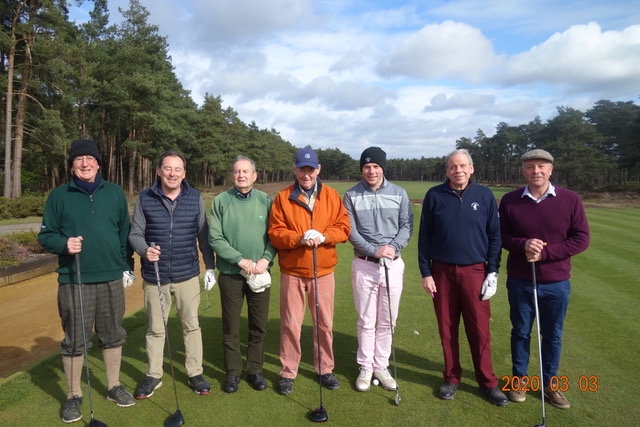 Local member Peter Greenwood (Westacre 1969/2) and I managed to put a party of 8 golfers together for this traditionally the first OH meeting of 2020. We were fortunate in this instance to have present our Captain David Blackburn and Hon. Secretary William North, together with Tom Webb, James Amies, Charlie Draper, and a Hankley member (to make up the 8th place after a couple of late withdrawals) Graham Wick who by a nice coincidence was at John Lyon's School in his time.
So 2 sets of 4 players set out around midday on a remarkably dry course, with more than satisfactory fairways and greens, Hankley members having been subjected to temporary greens up to the weekend. No snow in bunkers either unlike last year! Peter's group set a cracking pace and enjoyed their round with a creditable top Stableford score of 34 among them, while my group were slightly more leisurely with 3 players who did not know the course. Fears about the heather largely dissolved as we progressed, as our friends found it less lethal than feared especially at this time of year, once they got used to their ball often being pulled left when playing out - not that they were in it much, you understand!
In summary, one of our group on his maiden voyage here, James Amies of Brancaster fame, had a truly remarkable round hitting fairways at great distance and greens with almost unfailing accuracy, to score a fantastic 38 points as a very clear and well-deserved winner of our select little competition. I am grateful to him for also doing all our scores, checked by Tom afterwards of course, over tea and cakes. So a pleasing start to our golfing season with no mention of any viruses! and surely conditions can only get better from here on.
Stephen Bois