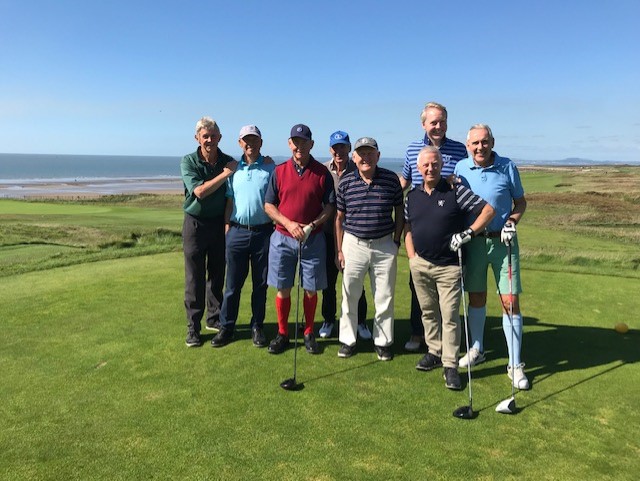 The inaugural OHGS Welsh meeting took place at the Royal Porthcawl Golf Course in September on Tuesday 17th afternoon and Wednesday 18th morning.
Royal Porthcawl is a very demanding Links course with undulating fairways, menacing deep bunkers and tricky greens; the setting is magnificent and we were blessed with glorious sunshine and no wind; it is a venue for the Seniors open and one can fully appreciate why it sets a fitting, demanding challenge for this event.
Our event was hosted by Huw Jenkins, a former Club Captain and who has made a remarkable recovery from his terrible fall and progressed from being told that he would never playing golf again to having already got back to a handicap of 7.
12 OHGS members took part – Stevie Richards, Simon Berry, William North, Jeremy Fricker, George Hartley, Graham Dunbar, Adrian Gracey, William Ledward, David Norris, Huw Jenkins, Christopher Wilson and Christopher Hopton; we were joined by several local RPC members ( and our thanks to them for doing so) to make 4 groups of 4. We agreed to play an individual stableford competition with scores being aggregated over the 2 rounds.
We met for a light lunch at 12pm and then we set forth in the lovely benign conditions.
Stevie Richards was fast 'out-of-gates' with an opening 9 of 1 over gross but sadly he tailed off rapidly over the back 9.
Leaders after the first day were Adrian Gracey (5), with a score of 34, followed by Huw Jenkins (7), with score of 33; the majority of chasing pack having scores in the range 27 to 30. We played off the white tees which meant long carries to the fairways, which was a major disadvantage to some of our party so we agreed that those who wished to do so, play off the forward tees for the following morning's round, and this was much appreciated by them.
Accommodation for most players was in the adjoining dormie house and an excellent dinner, followed by songs, took place in the clubhouse.
Sadly Huw was unable to take part on Wednesday as he had to go to a funeral of a close friend.
Wednesday was another glorious day and the leaders from this round were Jeremy Fricker (6) and Christopher Hopton (12) who both had rounds of 30.
The overall winner was Adrian with a combined score of 62 with the Runner-up being Christopher Hopton on 59.
Our thanks to all the RPC staff and the local members who all made us feel most welcome.
There was great enthusiasm for the event to take place annually but beware of more arduous conditions in future – the course is very exposed to the prevailing south-westerlies!
Finally thanks to Huw for organising the event and to all those who attended to make this a great success.